With the prevalence of online research, the B2B buyer's journey is practically over before prospects bother to speak with a sales rep. Much of this research is done via social media. Yet, two-thirds of companies, including many of the Partners we work with, don't have social media strategies in place and aren't attempting social selling. Wouldn't it be nice if there were a quick social selling guide that Vendors could use to help Partners drive demand on social media? We thought so too!
Why the reluctance to social selling?
It certainly doesn't require a millennial or a social media guru to start a social selling strategy. It just requires learning the platforms and staying on top of the trends. Sounds simple – but Partners don't have the time to devote. They're busy with current clients and generating leads the old fashioned way. In addition, social strategy is inherently a delayed gratification process so before leads can be realized, many channel partners give up.
Vendors can help Partners succeed with social selling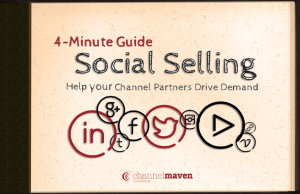 We recently developed an easy to consume, 4-minute Pocket Guide that breaks down the components of selling via social media. It shares tips and tricks for getting started and sticking to a plan. Use it to learn how to support your channel partners as they launch and strengthen their social media selling strategies.
The following quick-hit sections walk through our social selling guide and show you how to make it work for your channel partners:
Social selling matters
Partners are reluctant to adopt social selling
What is social selling?
Where do Partners begin?
Establishing their brand online
Building the right audience for demand gen
Engaging for demand gen
Finding time for social selling
Use this pocket guide to begin the conversation. Talk to Partners, find out if they are ready to begin implementing a selling strategy on social media. Then, consider integrating it into your Partner Programs and resources and share this guide with Partners to help them get started.
Ready? Download the 4-Minute Guide to Social Selling now!
In addition to our social selling guide, these article will help:
Channel Partners Benefit From Social Media (more than you might think)
It's Not Marketing, It's Social Selling
Help Channel Partners Prospect with Conversations that Matter
7 Tips to Boost Your Partners' Social Media Image
Help Channel Partners Drive More Demand With Self-Serve Marketing Tips