Welcome to July - we're back with another engaging episode of #CMCtv, this time focused on social selling for channel enablement.
It can be a challenge to convince Channel Partners that social media works to improve demand generation. Get them on board by changing your language. Use the words "social selling" instead of "social media" and suddenly the visuals we conjure up go from teenagers on Snapchat to communicating with prospects and growing a business.
A singular definition for social selling is hard to come by but as Heather K. Margolis explains it, "social selling for Channel enablement is when Vendors and Partners use social platforms as a tool to assert themselves as industry thought leaders and as a source for open communication."
When tasked with creating a detailed social selling strategy, it can feel like you're going in blind but don't worry, Sam Brown has you covered. In the role of Client Engagement Specialist, Sam has been working with Channel Partners and Vendors to mentor them in social selling strategy. He's also been showing those same Channel Vendors and Partners how to better utilize social selling for channel enablement.
Here's a teaser of what Sam has to offer in this quick video segment:
Why cold calls, email campaigns, and purchased lists are no longer enough
How to move the needle, drill down, and personalize your digital marketing
Which tools make it easier
Where the challenges lie and how to solve them
Why multiple touch points with potential customers serve as building blocks to trust
How to establish rapport with customers and build relationships through trust
Why social selling is fueled by repetition
Join us and learn how Vendors can guide Channel Partners to become social selling rock stars and boost demand generation with social media platforms.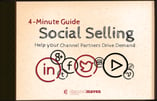 Looking for more information on social selling to drive demand for Channel Partners?