Every day on social media, in the news, and at the "water cooler" we hear about the gender gap, a critical need for more women in STEM, and how difficult it is for women to gain traction in a "man's world," especially in the tech sector. Through public speaking, participating in and supporting organizations like Cloud Girls, CompTIA's AWIT (Advancing Women in Tech) and others, we're working to make a difference.
Partnering for a cause: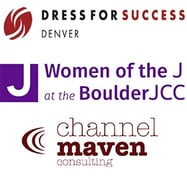 Channel Maven Consulting regularly participates in charity initiatives and events from supporting autism to hurricane relief to helping our community thrive. This year, we are proud to partner with The Denver chapter of Dress for Success and the Boulder JCC and we'd love your help.
About Dress for Success:
Dress for Success is an international organization with a mission of empowering women to achieve economic independence by providing a network of support, professional attire, and the development tools to help women thrive in work and life.
Sounds good – right?!
Be inspired:
A quick trip to the Dress for Success blog will make you want to stand up and applaud their work, the strength and perseverance it takes, and the outpouring of support for women who are bootstrapping their lives! It's all there; success stories, corporate sponsors, marathon runners, and great advice for women entering the workforce, no matter their situation.
Clothing donations include gently worn and recently cleaned:
Interview appropriate business suites and blouses
Business separates including skirts, dresses, blazers, slacks, and jackets
Work appropriate shoes
Jewelry, scarves, and belts
Work appropriate handbags, purses, briefcases, or portfolios
Of course many of you aren't in Boulder, we're happy to have you ship donations to our office (contact Laurie for more info) or you can drop-off donations at a Dress for Success collection location in your area or make a financial contribution on their website.
In Boulder? Let's get this party started!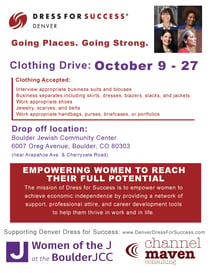 Please come visit our collection site:
October 3 – 27, 2017
Boulder JCC
Boulder, CO 80303
As a whole, The Channel has some of the most giving and charitable people I've ever met. Thank you all for everything you do to support organizations worldwide. It truly does take a village!