Alright, so you've got your highly targeted and profiled list of 1,000 partners using the "Channel Partner Recruiting Model," we talked about in our last blog post. Now, how do you make sure that you engage them in order to recruit them? How will you manage those recruited partners that warrant such attention?
Engaging Channel Partners
What do you need to do to convince an ideal channel partner to choose your company or product over all the other alternatives? This will be based on a variety of things, among them: the size and types of partners, your value proposition, partner program details, financial modeling, third-party validation and channel partner proposition, etc.
Ask yourself this: what do you have that you can bring to the table? Remember that you need to SELL potential partners on working with you. Why should they take time out of the field to train on your solutions, to learn your value proposition, to navigate your resources? If there isn't a longer term benefit, they won't.
Let's talk about managing partners in order to build successful business relationships.
Managing Channel Partners
How can we determine which partners to focus on? We asked Carlos Blanco, of Pigs on the Roof, for a little insight. "Managing partners is extremely important; it builds a systematic trust and cooperation in order to successfully drive revenue. This is reliant on the type of partner and the relative importance of that partner to you. The best way we can do this is break it down into 4 tiers to better evaluate:"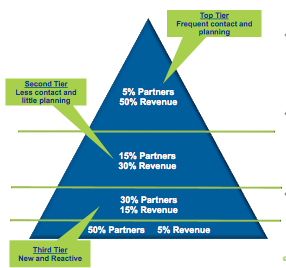 Tier 1 – This is the primary focus tier; contact with partners in this tier would be at an average frequency of two times per month.
Characteristics of these partners:
You have a high ability to influence
Expected high ROI
Their business model mirrors your ideal partner profile
Tier 2- This is the secondary focus tier; contact with these partners would be at an average frequency of one time per month.
Characteristics of these partners:
Have some limiting factors that may include: size, credit capacity, etc.
There is potential for long-term ROI
Their immediate impact and influence and significantly less that Tier 1 accounts
Tier 3- This is the tertiary tier; possible contact with these partners would be at an average frequency of one time per quarter, mainly via e-contact.
Characteristics of these partners:
Their business models are not complimentary to yours
They will have little impact on your sales
Putting it into Play
1. Ask, understand and adjust: take a good look at partners, competitor partners and customers, and see what changes can be made and where. Here are some examples of main criteria to consider when selecting a network supplier:
Price
Quality and reliability of products
Pre and post-sales support
Customer service
2. Field vs. Inside Sales: How do you decide if you should visit or call? This depends on the number and types of partners. Let's take a look at this broken down into 4 tiers based off of revenue producing partners:
The critical decision is to determine how best to manage partners and what resources to use in order to maximize results vs. potential.
Before doing anything, begin with the data. Intelligent, data-driven channel management is about making smart decisions about what you are already spending or planning to spend, rather than spending more. Take a serious look at the numbers and see what you can adjust without adjusting your budget.
With data in hand, the first step is determining the type of management to be provided: Field vs. Inside Sales. This decision depends on the number and types of partners. Let's take a look at this, broken down into 4 tiers according to revenue producing partners.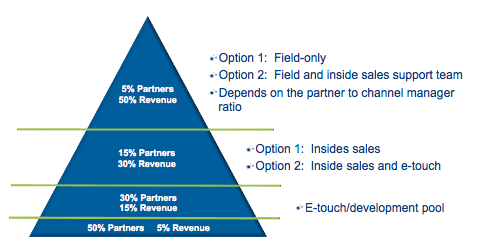 3. Insource vs. Outsource: When deciding whether to insource or outsource, it is important to first review the business needs that will drive the final choice.
Some of the benefits of Insourcing are the product knowledge only your team can attain. They also know how and where to get answers to questions partners may have and how to navigate your proprietary knowledge like pricing, discounts, and procedures. There's also more control over the brand, your internal people have the same loyalty to your brand, and can "sell the kool-aid," so to speak. Your internal team has a vested interest in making sure the relationship with the partner is solid and that the benefits of partnering, specifically with you, are measurable.
If Outsourcing is the way to go, you want to be sure you choose a contractor or agency with specific knowledge of the channel that is quick to learn your value propositions for your program and your solutions. While sometimes it may seem silly to outsource something so important, keep in mind, the people you're outsourcing to know nothing better than recruiting and enabling partners. In the long run it can also be more cost effective to outsource so you're not bringing on an entire team to manage something that may only be necessary for a short time. Also think about what should be outsourced: data analytics, targeting, engagement, management, field sales, inside sales
Key Takeaways
In today's highly competitive IT environment, it is important to have a well thought-out and executed channel strategy. By focusing on and analyzing the data, using the budget and resources you already have, paying attention to your partners and your competitors, and combining insourced and outsourced resources; you can engage and manage partners in the most effective and intelligent way best promote your channel.
Thank you again to Carlos Blanco for walking us through recruiting, engaging and managing partners.