Isn't that just like us to start the year talking about channel marketing? 2016 looks promising for technology innovations, changes in marketing trends and opportunities for Vendors and Partners to drive more demand in the channel. We're seeing more and more Vendors providing their Partners with channel marketing programs that fit their business not force them into a resource rut. Are your channel marketing programs ready? If not, we have some ideas to help jump-start your channel marketing tune-up in 2016.
There are common areas where many Vendors struggle with Partner marketing enablement. With a little focus, you can make a big difference in giving your Partners the ease of doing business they crave. Like you, we're excited to see what's possible in the channel this year so, let's get started:
Lean & mean resources
In order to enable more Partners it's important to declutter content resources. Sort through the ones you've provided to Partners and clean out those no longer relevant. Give the outdated Partner content resources a face-lift and remember, minimalism is key.
When redesigning channel marketing resources keep the current trends in mind by using lots of white space with short and to the point messaging. Remember, if you're just taking what corporate marketing gave you and adding a spot for the Partners' logos they aren't going to use it!
Re-assess your platforms
Think about these aspects of your current platforms and keep this in mind; your software is there to streamline and amplify your efforts. It can't do the work for you. What kind of Partner Platforms are you using and are you using them correctly? Remember Marketing Automation or Partner Relationship Management (PRM) Systems/Portals are the engine but if you put garbage in the tank or never clean out the interior it doesn't matter what kind of vehicle you're driving it's going to stink. If you've hit the end of your FY or are about to, consider your goals for your platforms.
Is the content in your channel marketing automation platform useful, tailored to Partner needs, and is it relevant? Is your PRM system identifying new, quality leads? Are the email templates current in design aesthetics and information? Are there elements you can add to help with demand generation like social media and content syndication? It's possible your platform already has these functionalities that you may not be using. Addressing these aspects of your Partner resources while taking Partner needs into consideration will help your channel marketing efforts pay off.
Monitoring and analyzing Partner sales performance
It's simple. When your partners do well, you do well, right? How do you know if your Partners are doing well, are you checking in with them? Are they consistently converting prospects into leads and closing deals? Perhaps their marketing and sales strategies need to be reassessed. How can you help? One big way to make an impact is to help Partners improve their social selling. Like the rest of B2B, Partners are sometimes slow on social media uptake but it's an important part of demand generation and shouldn't be overlooked. By presenting social media as social selling and showing Partners how to connect with the prospects and use those prospects to get introduced to other decision makers the Partners can convert "telemarketing" into social selling and start seeing better results. Social selling and other effective sales tactics will connect Partners with buyers along their purchasing journey.
Tailoring Partner communications
If every one of your partners were exactly the same, channel marketing would be a lot easier, wouldn't it? Obviously that's not the case. There are some challenges Partners face that are common across the entire Partner ecosystem. Then there are those challenges faced by only a portion of the Partners you work with. Taking the time to identify the differences and segment communications not by tier but by challenge is where Vendors have one of the biggest opportunities for Partner enablement. Understanding how to map Partner conversations in order to grow you channel is key.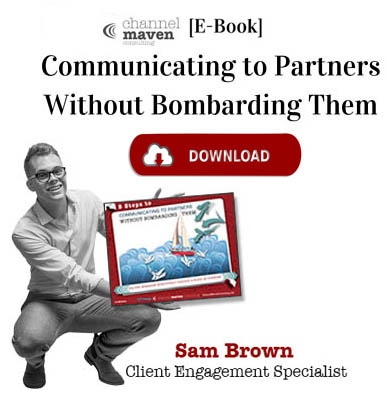 Communications and enablement through world-class Partner programs is our passion. We're happy to help shape your channel marketing strategy to drive more demand through your Partners. Interested in learning more about communicating to Partners in ways that put you top of mind?