With the pace of the modern Channel enablement strategies moving faster than ever, more and more Vendors are asking; how will their Channel Partners keep up?
The days of sending newsletters and emails are far from over, in fact, they're now working hand-in-hand with social media in today's always-on world; each platform with a unique purpose. Now, Vendors have more options when it comes to delivering messaging to the places and platforms where their Channel Partners and end-users frequent. Understanding these complexities are critical to demand generation to and through Channel Partners.
In episode 5 of #CMCtv, Channel Maven Founder, Heather K. Margolis and another special guest dive into a discussion on social media engagement strategy and how to ensure it's helping your brand resonate with your Channel Partners and their buyers.
Sabra Willner is in the house! A warm welcome to the new CMO of Lenovo Software! Sabra brings an expansive pool of Channel knowledge to the #CMCtv set. Dedicated to her career and craft, not even the fast paced Channel can slow Sabra down. Some say her marathoner's mentality led to undisputed success in brand development and marketing strategy and that's what contributed to her recent recognition as a 2015 CRN Woman of the Channel. We'd add - her uncanny ability to drill down into the important aspects of channel enablement and steadfast dedication to developing creative solutions are what highlight Sabra as a Channel leader.
In this episode, Sabra reveals why 140 characters are so important in Partner communications and what Vendors need to know. Join us as Sabra and Heather plunge into the depths of channel marketing and discuss social media engagement in the Channel. Be careful though (just like Twitter) if you blink during these four minutes you might miss an important message!


Interested in learning more about how to drive social media engagement to and through your Channel Partners? Here are a few articles to help:
A chore No More – 8 Simple Ways to Make Time for Social Media
How to Gather Social Media Content
6 Roadblocks to Social Media Success (and how to overcome them)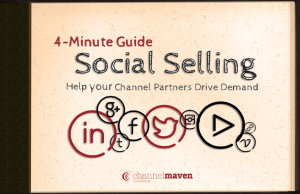 4-Minute Guide to Social Selling
Help your Channel Partners Drive Demand