In this short video, Dina Moskowitz, CEO and Founder of SaaSMAX joins Channel Maven CEO, Heather K. Margolis to discuss the latest evolution of organized Partner recruitment strategies.
As the Channel continues to expand, many of our usual ways of doing business are changing. This is especially true when thinking about Partner recruitment strategies. Typical Vendors look at an existing roster of Partners and see a huge lists but only some of them are active and engaged.
In an effort to better understand the newest and most optimal strategies for bringing Partners into the fold, Dina and Heather discuss Partner Optimizer, brought to you by SaaSMAX is the first business intelligence software that:
Enables Vendors to quickly profile Partners by culling their website information
Delivers deep insights on these Partners, who they are and what they do
Structures the incoming data in a user-friendly online portal
Often when working with Vendors, we find them struggling to manage what feels like an exhaustive list of Partners. With an almost immediate assessment of your Partner base, Partner Optimizer helps Vendors find Partners faster, delivers data-driven insights into Partner practices, and facilitates alignment for better Partner engagement.
What type of info are Vendors receiving from Partner Optimizer?
Partner assessments and identification of strengths and weaknesses
Keyword identification for content development based on your products, competitors, and industries
Key insights into Partner segmentation and consolidation that drives Partner efficiency
Detailed information on Partner certifications, products and solutions, customers, ecosystems, the other Vendors they work with and more
A drill-down into Partner specializations such as business intelligence, data analytics, cybersecurity
Many thanks to Dina Moskowitz for sharing insights on how data analytics and business intelligence are changing the way Partners operate, and how Partner Optimizer can give you the tools necessary to better engage and activate your Partners.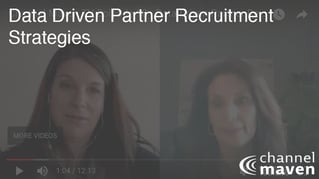 Interested in learning more? Stay up to date by subscribing to Channel Maven TV where you'll receive fun, informative, short videos in your inbox about once a month!