2018 is right around the corner and we recently sent out our final newsletter of the year! I wanted to take this time to reach out and thank each and every one of you for the engaging conversations, great feedback and continued support. It's been a crazy year with organization consolidations, new business challenges, and what feels like a shift in Channel Programs and resources, to align with the shift to the cloud we've been feeling (or at least talking about) for over a decade.
In this newsletter, I put the spotlight on new solutions to help Vendors with Inbound Partner RecruitmentTM and gave recognition to Xerox, the winner of Partner Program of the Year as well as to Toni Clayton-Hine and Janet Shijins, of Office Depot who were highlighted in high profile, non-Channel positions after tenure in the channel.
Alongside other organizations and with the help of you, our Channel community, we gave generously to charity organization in support of women and families. First a very successful clothing drive for Dress for Success and then fund raising for Girls Who Code and finally food and toys for families in need.
Channel News for Q1: Channel Maven Consulting partnered with Marketstar on a survey of Partners and IPBMs that highlights their contrasting views and shines light on areas where cultivating synergies will help drive more demand through Partner organizations. Results will be released Q1. Sign up and we'll send you those results as soon as they're published!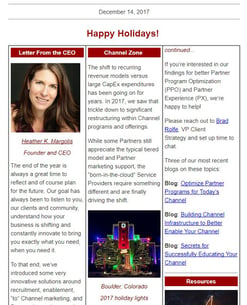 For more information and to be added to the list to receive survey results please visit the published edition of our December newsletter: