In our last newsletter, we offered a complimentary Channel assessment to the first two people to reach out to Heather.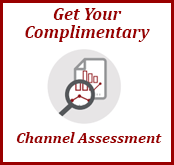 We were overwhelmed with responses so as a holiday gift to you, we're offering another chance to receive a complimentary Channel assessment, covering one of the following:
Channel Program Enablement
Communications TO partners
Partner Demand Generation
Suggestions for moving forward
Interested in driving a more successful Channel in 2017? The first three people to email Heather K. Margolis with the subject line "Holiday Assessment" will receive their complimentary deck in January.
Happy holidays!