With more Vendors than ever to choose from, today's Partners work with anywhere from 5 to 25 at any given time and align with those who truly help them sell. They're not interested in playing favorites; their attention is focused on growth, sales, and keeping the lights on. It's causing a shift in Partner marketing where the Vendors that help drive joint sales and add value are rewarded by staying top-of-mind with Partners. They are also the ones moving more of the 80% of lower achievers into the 20% of Partners that generate most of the revenue through their Channel.
Blogging is one tactic that works in long-term through Partner marketing strategy.
Blogging matters for 100% of Channel Partners (not just 20%)
When done 'right,' blogs do many things:
Help establish trust and authority
Put the company voice in front of the right audience
Provide critical information for prospects
Drive traffic to websites by increasing search engine rankings
Create links for social media posts to drive awareness and gain exposure
Blog Schmlog

Unfortunately, the word 'blogging' can conjure up negative feelings. Seriously. It sounds good in theory but then you sit down to do it, and writer's block takes on a whole new meaning.
Blogs take time and confidence to conceptualize, write, and edit, as well attract and make an impact. Of course, even when these hurdles are overcome there are lingering doubts about whether the blog will actually drive sales, which creates a barrier to demand gen for Partners.
Well aware of this 'self-fulfilling Partner prophecy,' Vendors attempt to remove the barrier by offering content syndication. An easy answer, yes, but syndication alone is not enough.
The Partner blogging challenge
When working with Partners, we see a diverse mix of blogging strategy:
Some Partners blog, others don't
Many who do, publish without a content or keyword strategy
Many lack understanding for how blogs drive sales
Many publish randomly instead of consistently
Some are lucky if they post once or twice a month
None of these scenarios impress search engines or prospects.
The Partner's misconception: blogging = writing
Although Vendors invest in Partner marketing education, Partners often execute learned tactics in an ad hoc style due to limited marketing resources. What's more, the concept of a content strategy to engage the right audience is well beyond their wheelhouse. When Partners write blogs in-house (versus hiring a writer) they often have a hard time gaining traction. Tactically focused, Partners don't realize there is so much more to blogging than just an ability to write. As a result, their blogs fall into the 50 – 70% that go unread, which feeds the skepticism around blogging and demand generation.
Use blogs to help move the 80% to the 20%
Vendors can market through Partners by providing original, unique, evergreen blogs written from a strategic point of view. Since Vendors can't (and don't) force Partners to blog about specific topics, these well-written blogs help move the partner marketing needle in their favor.
When Vendors provide blogs that don't put themselves in the spotlight but offer value to the Partner's audience while educating joint customers on joint solutions, the 80% begin moving to the 20%. They also help Partners establish thought leadership and work to attract and convert prospects for as long as they remain relevant and published. Basically, when done with purpose and strategy, thought leadership blogs become 'set-it-and-forget-it' long-term demand generation magnets for both Partners and Vendors.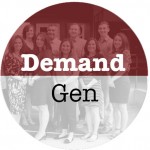 Interested in how blogging helps Channel Partners drive more demand? These links can help with your Partner marketing strategy:
Amplify Partner Experience with your Channel Blog
5 Ways to Keep the Blog Engine Running